Abylonsoft based in Soonwald offers the new, practical file tool abylon FILECOPY. By special procedures thereby the copy process is accelerated. This has an advantage especially when backing up large ...
---
Corona keeps us far under its spell and stops daily life in many areas. But the software from abylonsoft is constantly being developed further and is now also receiving a major update in 2021. The ...
---
The major update to version 19.x and 2020 will take place in February 2020, and we have now added a minor update in March. Besides the general speed optimization, all products have received ...
---
We use the Christmas season to update our software products. In December 2019 the software developers from Soonwald will release one product after the other in version 18.30.2 or 2019.12. Look ...
---
All News
Awards

Offizieller Chip-Download-Partner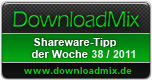 Wahl zur Software der Woche auf Software-Mix

abylon SHREDDER: 2. Platz von 10 getesteten Datenshreddern