EXIF metadata delete program Shows and deletes meta file information from images
Information about data and image privacy:
The data protection is a broad area that is regulated nationally and internationally in treaties and laws. Nevertheless, the informational self-determination and privacy of many people is legally and illegally violated by surveillance programs and ignorance. The state is interested in personal data in criminal prosecution and for statistical evaluations. In addition to personal data, companies are very often interested in the interests and buying behaviour of advertising purposes. The data collected by companies must be stored and secured according to the Data Protection Act (from 25.05.2018 the Datenschutz Grundverordnung (DSGVO)) under appropriate conditions. A data protection officer is responsible for this in companies with 10 employees or more.
Privacy for your pictures
For private individuals there are also some things you should consider in everyday life and especially when dealing with electronic media to protect your Privatsphäre. Critical topics are sweepstakes, bonus programs, credit and debit cards, social networks, communication programs, surf tracks, mobile phones, GPS and free software. At this point the dangers of digital pictures should be pointed out in particular. Additional Meta data are often stored in pictures. A clear camera ID and the GPS coordinates can be regarded as particularly critical, because thereby an assignment of the pictures is possible to the admission place and the person. With the software abylon EXIF-CLEANER the meta data in EXIF-Format can be completely deleted. Especially when uploading to the Internet or Cloud the image files should be cleaned before. In addition, photos can be evaluated biometric.
For detailed information about the privacy please refer to our tutorial.
Awards for abylon EXIF-CLEANER All Awards

100% Clean-Award von Softpedia.com

100% Clean-Award von Software-Informer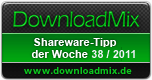 Download-Mix-Leser bewerten mit 9 von 10 Punkten
Enter comment
Please use our support form for support requests Support form!