X.509 Key Generator Generation of self-signed X.509 v3 test certificates (PKCS / RSA)
Digital certificates consist of a key pair and are used in many areas. Certificates can support different uses, such as unique identification by signature or encryption of different data. Certificate-based encryption is used, for example, for the secure transmission of Internet pages using SSL or email encryption. The software products of abylonsoft also support the encryption of data with certificates as secret keys.
Certificates are normally issued by certificate service providers. These check the correctness of the given data and receive for it a corresponding exhibition fee. For many applications, however, this is not necessary. For these purposes the free software abylon SELFCERT enables the generation of self-signed test certificates (X.509 v3).
For this freeware abylonsoft does not assume any warranty and guarantee. The certificates can be used in the private and business environment for test purposes.
Screenshot of abylon SELFCERT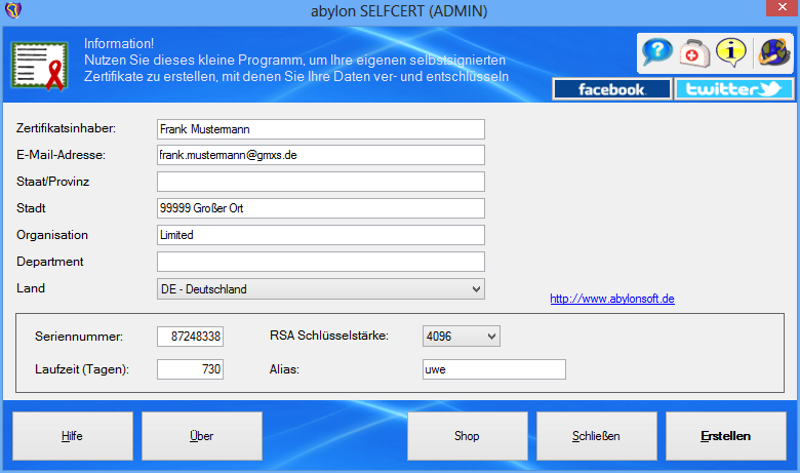 Application example for digital certificates
Digital certificates are widespread in today's society and play a very important role. They guarantee authenticity, integrity and authenticity and enable secure encryption.
The numerous application examples for digital certificates are summarized in our tutorials.
NOTE: The self-signed certificates created with abylon SELFCERT are not qualified according to the German Signature Act (SigG §2 Nr. 7) and cannot legally replace a handwritten signature. In the private or locally limited business environment, however, they offer good services. The software abylon SELFCERT is offered free of charge as Freeware without guarantee.
Windows certificate database for software certificates
The certificate created with the software abylon SELFCERT from public and private key is available as PFX file. This can be used with a certificate chip card or Token. Usually, however, it is simply installed in the Windows-certificate-database.
Awards for abylon SELFCERT All Awards

FileCluster Scan Report: This software is 100% Clean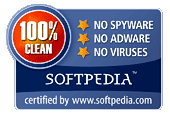 Softpedia 100% Clean Award

Certified by Download3000.Com: DJ Jukebox Virus Report
Enter comment
Please use our support form for support requests Support form!