X.509 Key Generator Generation of self-signed X.509 v3 test certificates (PKCS / RSA)
Screenshot of abylon SELFCERT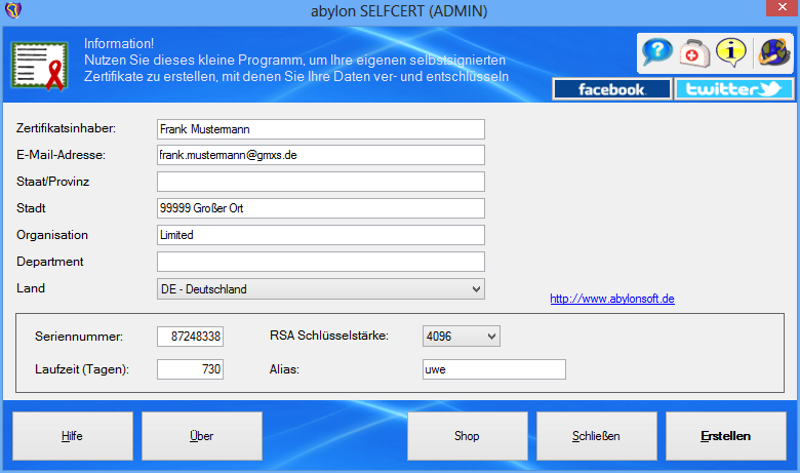 Application example for digital certificates
Digital certificates are widespread in today's society and play a very important role. They guarantee authenticity, integrity and authenticity and enable secure encryption.
The numerous application examples for digital certificates are summarized in our tutorials.
NOTE: The self-signed certificates created with abylon SELFCERT are not qualified according to the German Signature Act (SigG §2 Nr. 7) and cannot legally replace a handwritten signature. In the private or locally limited business environment, however, they offer good services. The software abylon SELFCERT is offered free of charge as Freeware without guarantee.
Windows certificate database for software certificates
The certificate created with the software abylon SELFCERT from public and private key is available as PFX file. This can be used with a certificate chip card or Token. Usually, however, it is simply installed in the Windows-certificate-database.
Awards for abylon SELFCERT All Awards

Full antivirus Test: Download3K Clean Award

Giga-Redaktions-Bewertung: 4 von 5 Sternen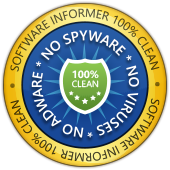 Software Informer: 100% Clean Award
If you only use a self signed certificate to validate the contents of your distributed executables then it provides zero assurances to your customers that the digital signature is valid and created by you unless they install a validated copy of your self signed signature in their security stores to validate the executables against which is a massive security no-no. I could use your selfcert to create a fresh signature with all your data in the fields, edit your binaries and sign it with the spoofed self signed certificate and only YOU could prove it was not signed by you, everyone else would just get the same error as we get on your self signed certificate. Now if you signed it with a properly created and validated certificate your customers could validate the signature as OK with no errors and it would be MUCH harder for me to spoof your validated countersigned certificate. Self signed certificates are a cludge for developers in house private testing NOT for use in public unless one is willing to downgrade security digital certificates provide as a whole! Whether it is for SSL/TLS or executable signing, requiring end users to routinely accept certificates that do not sit within the established Certifying Authorities chain is a bad thing to ask. In certain very limited circumstances it is understandable with imbedded https servers on internet of things just to obfuscate the traffic but to teach end users to accept self signed certificates as if they were as good as those that are from a valid certifying authority is just bad actor behaviour in my opinion.