Which is the right version for me?
From version 10.0 and 2013 -> .NET 3.5 From version 15.0 and 2016.2 -> .NET 4.0 From version 15.9 and 2017.1 -> both versions
.NET 3.5: This Windows framework is pre-installed on the operating systems Windows XP to 7. Therefore no additional software has to be installed when installing the corresponding version of our software. In addition, we recommend this version for mobile use, e.g. on a USB stick.
.NET 4.0: This Windows framework is pre-installed on the operating systems Windows 8, 10 and 11. When installing the corresponding version of our software, the framework does not have to be installed anymore. Only a so-called Redistribution Pack is included in our setups and will be installed automatically.
Both variants of our software can be installed on any of the Windows versions specified. If the corresponding .NET framework is not installed, it will be automatically downloaded from our setup. In addition, the registration data is valid for both versions of our setups.
The Software abylon LOGON can be downloaded from our server without obligation and used without restriction for 30 days. There are no hidden costs with the download and you do not enter into any obligations.
Registration for our newsletter is voluntary!
Other downloads (Mirror)
Download previous versions
Here you can download earlier versions of our software abylon LOGON (Info about version selection)
This offer is only valid for users who have a purchased license key for the corresponding version.
WARNING: This list does not contain setups of temporary versions, free versions, magazine DVDs or covermounts!
Additional information, whitepapers and documents
Relevant topics in the tutorials of abylonsoft
Step instructions for installation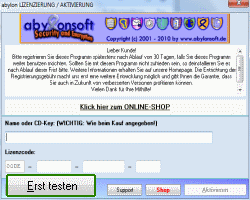 Hint: To avoid problems during installation and registration, virus scanners and other security software should be deactivated temporarily!
With Windows 11 Microsoft has released a new version of its operating system. The first test of the abylonsoft software in the version 20.60.2 and 2021.10 under the new Windows version was ...
---
Corona keeps us far under its spell and stops daily life in many areas. But the software from abylonsoft is constantly being developed further and is now also receiving a major update in 2021. The ...
---
The major update to version 19.x and 2020 will take place in February 2020, and we have now added a minor update in March. Besides the general speed optimization, all products have received ...
---
We use the Christmas season to update our software products. In December 2019 the software developers from Soonwald will release one product after the other in version 18.30.2 or 2019.12. Look ...
---
All News